When planning and creating new structures, one of the main concerns of architects and builders is their duration. The current protocol is that structures - especially bridges - should provide at least a full century of service life with little (if any) maintenance in order to be cost-effective to the community. One of the methods used to help achieve this broad time span is the professional installation of stainless steel reinforcement (often called rebar).
Corrosion is one of the leading causes of structural failure over time, so defending against this problem is critical. By using stainless steel ties to hold the rebar together before the concrete is placed, the corrosion resistance of the metal can be used to ensure that the rebar is protected. In addition, stainless steel will not leave marks or discolor on the concrete as other steels do.
Rebar tie wire, also known as rebar tying wire, is made from the softest low carbon annealed steel wire. With fully galvanized and PVC coating on the surface, it offers excellent flexibility and corrosion resistance mainly used for tying and bundling reinforcing steel bar, supporting plants in gardens.
Loop tie wire is made of high-quality annealed wire, galvanized wire, PVC coated wire, stainless steel wire, and copper wire. When the loop ties machine running, it will automatically send a wire and straight. meanwhile, the iron wire also cut and bent loops at both ends. neat incision, low mistake rate, and length exactly.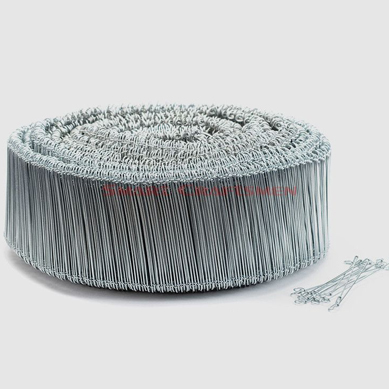 Galvanized Rebar Tie Wire
Features of Rebar tie wire
Excellent flexibility and softness. It has excellent flexibility and softness through the process of drawing, acid-washing, and annealing.
Anti-corrosion and endurable. With galvanized and PVC coating on the surface, such soft annealed rebar tie wire can resist corrosion and not easily broken.
High standard and quality. It has perfect properties and makes your work more efficient without hurt.
Applications of Rebar tie wire
Mainly used for supporting plants in gardens to protect and erect trees, vines, and vines.
As packaging for cereals potatoes, lime, sugar cane, seeds, bread, etc. in daily life.
Rebar ties are widely used for reinforcing steel, fixing concrete buildings, swimming pools.
Recommended application for wire, bar, wood, PVC pipe, tube, and other bundled products.
Hand-made crafts.
PVC Coated Rebar Tie Wire
The benefits of using stainless steel tie wire in conjunction with rebar are numerous and include
High resistance to corrosion, especially chloride ions - making it ideal for water bridge construction
Significantly reduces the amount of concrete cover, saving time, weight, money, and labor
No need for sealants such as silicone
Significantly improves durability as maintenance and repair requirements are reduced
Ultimately, the metal can be recycled.
Smart Craftsmen Metal Products Sales Co., Ltd. established in 2016, but our history can go back to 2008, Smart Craftsmen has three production workshops includes technology--bending, stamping, welding, cold-heading, and thread rolling, etc, located in Hebei province, China.
We are proud to be one of the largest independent and professional manufacturers of wire & metal products in the North of China. our company takes into account changing customer needs and constantly expands its range of products. We care about every our customer and therefore strive to offer not only excellent value for money but also quick and easy delivery in China with the best quality products. our company is constantly expanding into new markets. A lot of products has been exported to United State, England, Ireland, Netherlands, Canada, Australia, and all over the world. If you want to get more information about the high quality rebar tie wire for sale, welcome to contact us.